Inventory Is at an All-Time Low
Almost every industry is currently struggling with supply chain disruptions. This also applies to the current U.S. housing market, where buyer demand far exceeds housing supply.
Purchaser demand is very strong right now. The National Association of Realtors (NAR) just released their latest Existing Home Sales Report which reveals that sales surged in January, increase of 6.7% from the prior month, with sales up in all regions. However, there's one big challenge.
Because purchaser demand is so high, the market is running out of available homes for sale. The above-mentioned report states that the current months' supply of inventory of homes for sale has fallen to 1.6 months.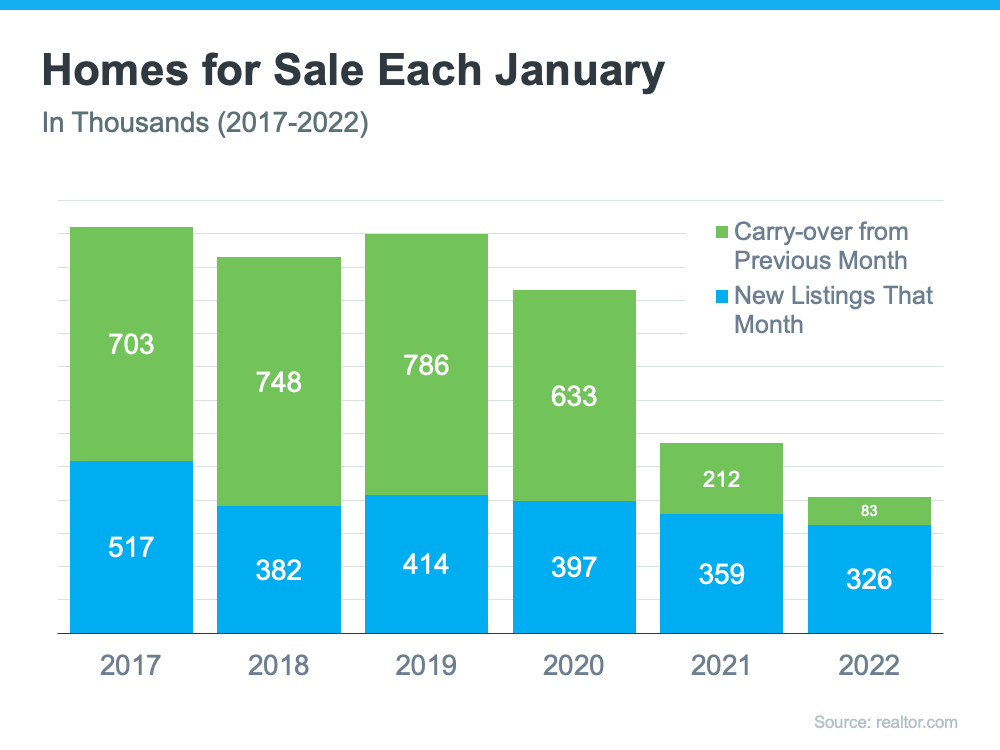 As the graph shows, new listings coming on the market have decreased over the last four years (shown in blue in the graph). The graph also reveals that carry-over inventory has plummeted in recent years. This is because listings are now sold so quickly, they don't stay on the market long enough to carry over month-to-month (shown in green in the graph). In other words, homes are not staying on the market for months as they had prior to the pandemic. In the report mentioned above, NAR reveals that: "Seventy-nine percent of homes sold in January 2022 were on the market for less than a month."
What Does This Mean for You Selling Your House?
If you choose to wait until later this year, inventory (and by extension, your competition) will increase as many homeowners are waiting to put their homes on the market in the spring and early summer.
In addition, Len Kiefer, Deputy Chief Economist at Freddie Mac,
says
:
"Housing starts start off 2022 strong, just edging out 2021 for most in January since 2006."
As these newly built homes are completed, they will also become competition for your house. This gives you a tremendous opportunity right now. Don't wait for that increase in competition in your area. If you want to sell in 2022 and are ready to start the process, today is the day to list your house. Just give me a call and we can get that going for you.